Welcome to the world of BEYBLADE BURST! Experience the thrill of Bey battles in our Free Play Area at the BEYBLADE BURST booth in the Entertainment Hall. All visitors receive free giveaway items while supplies last.
Compete in our daily tournaments to win a grand prize swag bag including BEYBLADE BURST QUADDRIVE battle sets, exclusive tees, and more! Tournaments are held twice a day and every participant gets a prize. More info below!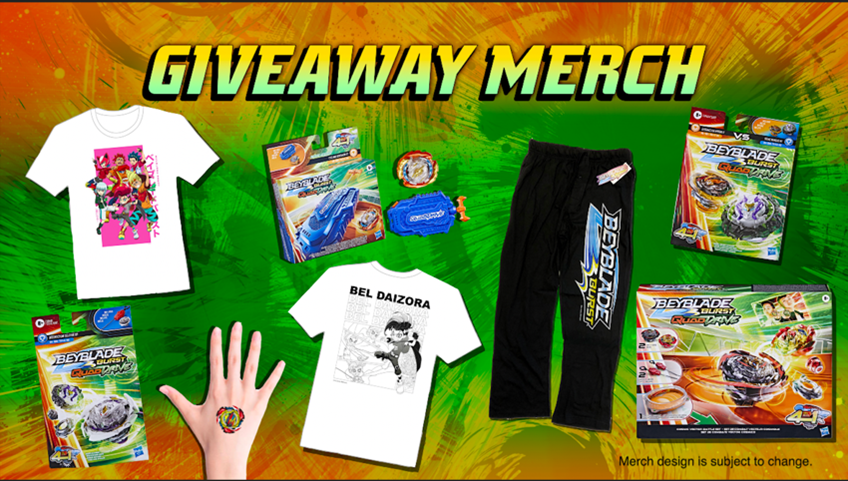 FREE PLAY AREA is available all day for everyone to try BEYBLADE!
Come join us at our booth to battle and win prizes! You can bring your own Bey or rent Beys at the booth!
To receive a prize at the Free Play Area:
Receive a BEYBLADE BURST Stamp Rally Card at the booth and collect 8 wins (8 stamps)
Answer a few survey questions to trade for a prize.
BEYBLADE BUST QUADDRIVE TOURNAMENT for all levels is open every day for registration! All participants get a prize! Top 3 winners of each tournament will get a swag bag of prizes!
*Make sure to register before the tournament starts. Registration is held at our booth and is on a first-come first-serve basis.
Tournament Schedule:
7/1 Fri: 11:30 am and 4pm
7/2 Sat: 11:30 am
7/3 Sun: 11:30 am and 4pm
7/4 Mon: 11am and 2pm
Tournament Rules:
Only QuadDrive tops may be used.
Participants will choose one top combination and use that same combination for the whole tournament.
Participants may switch between Core/Core+/Apex/Apex+ modes at the beginning of each battle.
A total of 8 participants are allowed in each tournament
Each match is first to 3 points: 2 points for Burst Finish, 1 point for Ring Out or Survivor finish.
3rd place battles will be held after the semi-final round has concluded
GET TAGGED ON OUR OFFICIAL SOCIAL MEDIA. Take a photo with a BEYBLADE BURST character standee and post it on your social media account (Instagram, Facebook or Twitter) to get tagged on official BEYBLADE BURST pages.
BEYBLADE BURST QUADDRIVE
HARNESS THE POWER OF QUADDRIVE: Beyblade Burst QuadDrive launches you into the future of Beyblade with the first ever 4-in-1 top! Tops can be configured in 4 ways, letting you customize like never before to gain the ultimate battle advantage.