Jeff Nimoy, the writer/director and voice of Tentomon in Digimon, and Wolfwood in Trigun, proudly presents his feature film "Fame-ish." It's a romantic comedy about a washed-up voice director who succumbs to the pitfalls of being a small-time celebrity at an anime convention. Starring Jeff Nimoy, Nikki Boyer, Brian Donovan (Rock Lee from Naruto, and Davis from Digimon), Margo Graff, Allison Powell, Jonathan Fahn (Shikaku Nara from Naruto), and Lex Lang (Star Wars, Digimon, Jujutsu Kaisen, etc)! Produced, Written, and Directed by Jeff Nimoy.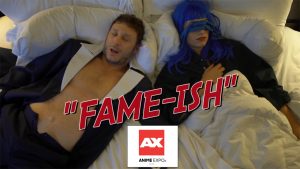 Time: Monday, July 4th at 12:00 PM NOON –
Location: Room 403 AB.
Running time is 94 minutes. There will be a 25 minute Q&A following the screening, featuring Jeff Nimoy, Lex Lang, Margo Graff, Jonathan Fahn, Chris Narrie (DP), and Joshua Sterling (Sound Mixer).
About Jeff Nimoy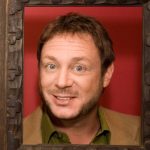 Emmy Award winner Jeff Nimoy is one of the most successful voice directors in American anime history. He adapted, voice directed, and served as show runner for the top rated Fox Kids show Digimon: Digital Monsters (he also voiced many characters, including Tentomon). He also adapted, voice directed, and voiced his characters in the theatrically released 20th Century Fox animated feature Digimon: The Movie, and the television sequel, Digimon: Revenge of Diaboromon for Disney. But the anime community also knows him as the voice for the popular character Wolfwood, from the hit cult series Trigun.
In addition, he adapted and/or voice directed several popular Cartoon Network series including Naruto, Bleach, Zatch Bell, and Bo-bobo; the animated series Mega Man for KIDS WB; Digimon Data Squad and Robodz, for Disney XD; and "STITCH!" (the new adventures of Stitch from "Lilo & Stitch") for DISNEY CHANNEL.
Recently he voice-directed ULTRAMAN on Netflix, starring Josh Hutcherson, and was brought in to voice-direct leads Jamie Bell and Ruby Rose in the animated feature film, Monster Zone.
In 2019 Jeff wrote, produced, directed, and starred in his first live-action feature entitled, "Fame-ish," A romantic comedy set at an anime convention. The Comic-Con/Rom-com was released in May of 2020 and is distributed worldwide by Random Media. Go to www.fame-ish-movie.com for more.