Acky Bright, a master of design that combines cute and cool, will give a new kind of live drawing performance. The audience is invited to choose a theme, and Acky will improvise to create a unique character right before them! Additionally, there will be plenty of limited-edition items for the raffle!
This is the first time for Acky Bright to participate in Anime Expo! On the second day of the con, he will hold a panel titled "Acky Bright's live drawing magic: 3 decks challenge". In the first half of the program, Acky will perform the "3 decks challenge," in which the audience will be asked to choose a theme and Acky will improvise a character based on the selected item cards (like an occupation, personality, random item, etc.) in the deck. The second half of the panel will be a big raffle party! We will be raffling off 25 items, including Acky's Anime Expo exclusive items, his new art book, signed posters, 5 shikishis featuring the Anime Expo mascot character, and more! 25 items for 250 audiences. 1 in 10 chance to win! Not bad. 
During Anime Expo, Acky will be at ANNEX (#ANX-LA1) for his live drawing performance & merchandise sales, autograph sessions, and more. Looking forward to seeing you all at the site!
Panel Details
Panel Title: Acky Bright's live drawing magic: 3 decks challenge
Date/Time of panel: July 2nd at 5:00pm-6:30pm
Panel Room: 411
Annex Booth: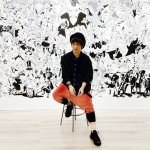 Acky Bright profile:
Acky Bright is a manga artist and illustrator who has gained popularity for his "kawakakkoii" style drawings influenced by the golden age of Japanese manga and anime.
While working on manga and character design for major Japanese media companies, he has also worked on projects for US companies DC Comics and Hasbro since 2020. In 2021, he collaborated with BMW of Germany on a manga modeled after a real-life esports professional team. In 2022, he designed characters and artwork for the Japanese version of the popular German novel "WOOD WALKERS." Also, he produced art toys in collaboration with 52TOYS in China. Recently, he has worked on the official coloring book for NETFLIX's Korean drama "Squid Game" (Penguin Random House, scheduled for release in August 2023).
He also specializes in live drawing, painting directly on large canvases. Last year, starting with a solo exhibition in Tokyo, he captivated fans with several days of live drawing performances at Anime NYC and Tokyo Comic-Con.
His art book "B/W" (PIE International), released last year, attracted much attention in Japan and is scheduled to be released in Asia in January 2023 and in the US and Europe in October.
https://www.twitter.com/aki001208
https://www.instagram.com/acky_bright
+++