Don't miss this special event with music superstar YOSHIKI (leader of legendary rock bands X JAPAN and THE LAST ROCKSTARS) as he reveals the dramatic stories behind his hit anime theme songs (including Attack on Titan and Saint Seiya) and his collaborations with artists from around the world, plus gives fans a preview of his upcoming world tour!
About YOSHIKI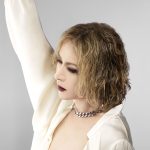 YOSHIKI is a composer, classically-trained pianist, rock drummer, and the leader of the rock groups X JAPAN and THE LAST ROCKSTARS.
Named "one of the most influential musicians and composers in Japanese history" and described by Billboard as "a musical innovator", YOSHIKI has composed theme songs for several anime titles, including Attack on Titan, Saint Seiya: Legend of Sanctuary, Buddha: The Great Departure, X – X2 Double X, the official "Hello Kitty Theme Song", and more.
YOSHIKI will perform at the Dolby Theatre in Los Angeles on October 23, 2023, for Yoshiki Classical 10th Anniversary World Tour with Orchestra "REQUIEM".