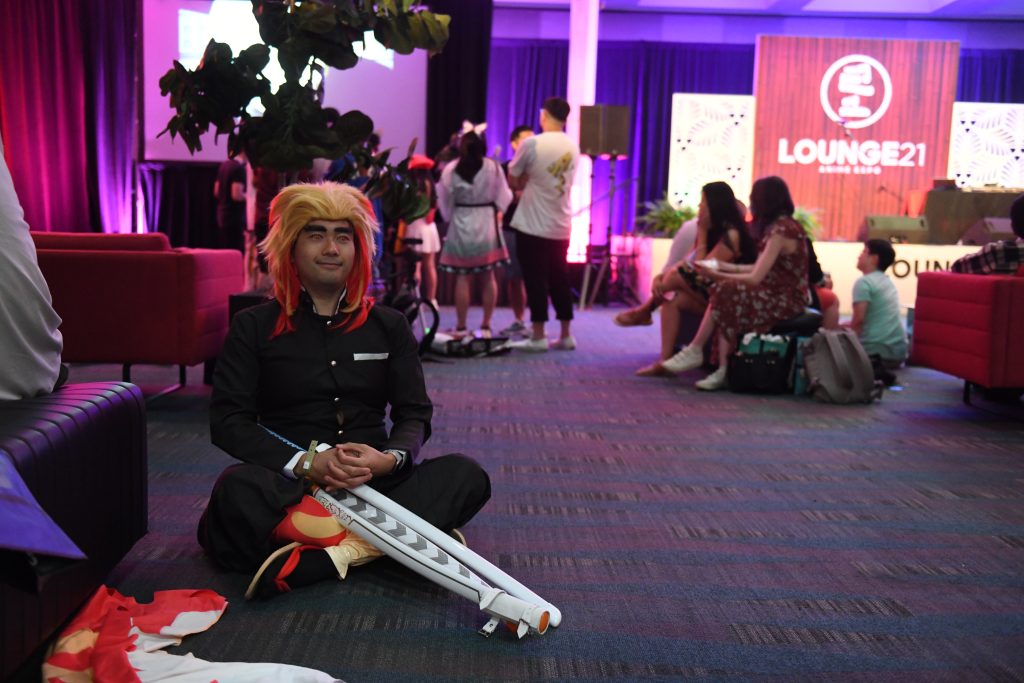 Come for live entertainment and libations.
Sip on a refreshing beverage (alcoholic or non-alcoholic) in a comfortable lounge setting, while enjoying live entertainment from a variety of bands and musicians. Lounge 21 also features parties hosted by industry partners, with giveaways and special guests.
Interested in performing in Lounge 21? Please check the Get Involved page for more information.
Note: Lounge 21 is restricted to attendees age 21 or over. Must have a valid form of ID to enter Lounge 21.
In accordance with California state law, Anime Expo's Lounge 21 can only accept an ID that:
Is issued by a governmental agency (such as federal, state, county, or city)
Contains the name of the person
Contains the date of birth of the person
Contains a description of the person (these are called key indicators and include height, weight and eye color)
Contains a photograph of the person
Is currently valid (i.e. not expired)
Performance Schedule
Saturday, July 1
1:00 PM Musical Mylow and St. Baritony
3:00 PM Breeton Boi
5:00 PM S4X
7:00 PM Eririn & Welksie
9:00 PM PAiDA
11:30 PM Chinsaku
Sunday, July 2
10:00 AM - 2:00 PM Idea Factory Event
5:30 PM Lethal Souffle
7:30 PM BLOW Brass
9:30 PM Shao Dow
11:30 PM DJ Disc Jockey
Monday, July 3
1:30 PM Colin & Steve's LoFi Living Room
3:30 PM SKY CITIZEN
5:30 PM Stephanie Yanez
7:30 PM Team 7
9:30 PM PiNKII
11:30 PM Nekomi
Tuesday, July 4
12:30 PM Yx2
Hours & Location
See Hours & Maps for more info. For performance and party information, please refer to the schedule when available.