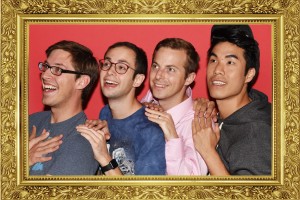 The Try Guys will be trying their hands at cosplay at the Masquerade. If you don't know The Try Guys yet, Eugene, Keith, Ned, and Zach are four video producers at BuzzFeed Motion Pictures who… well, try stuff with an honest approach and open mind. This time, The Try Guys will get a taste of what cosplay is all about. Through a series of videos, The Try Guys will be working with some of our Cosplay Senpai to create costumes of their own, which they will be showing off in a special performance as the opening act of the Masquerade. After the performance, The Try Guys will take a turn as special guest judges, scoring contestants' performances.
We are absolutely thrilled to have The Try Guys at the Masquerade this year, so be sure to grab your badges (if you don't have one already) and tickets ASAP to be a part of this exciting event!
For more information about our Masquerade, please click here.