OMAKASE AND ANIME EXPO OFFER HOLIDAY BUNDLE COMBINING ANIME SUBSCRIPTION BOX AND AX2016 FOUR-DAY REGISTRATION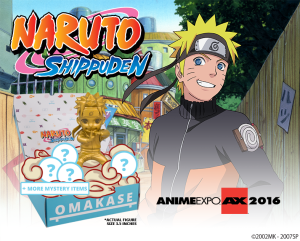 Fans can receive the special $40 off coupon for an AX 2016 4-day badge by doing the following:
Visit the Anime Expo® registration page and select "AX+OMAKASE Mega Deal"
Continue to Viewster's OMAKASE checkout page and subscribe to OMAKASE at regular price ($29, plus $6 S&H in the USA or $19 S&H in Canada or the UK)
Receive a special $40 off coupon towards a four-day registration for Anime Expo® from Viewster
Redeem $40 off coupon on Anime Expo's Eventbrite registration page (brings price down from $65 to $25)
Enjoy North America's premier anime convention and subscription anime merchandise service!
Eligibility Period: must subscribe to OMAKASE at regular price between December 15, 2015 at 12:00PM PST and December 27, 2015 at 11:59PM PST.
Coupon Delivery: Viewster to deliver coupons to registered email address on December 28, 2015 at 12:00PM PST.
Coupon Validity: coupons are valid towards the purchase of one (1) Anime Expo® 2016 four-day membership and must be used by December 31, 2015 at 11:59PM PST.
The current theme for OMAKASE's upcoming subscription merchandise box (January 2016) is Naruto Shippuden. Items include an exclusive Gold Naruto Mininja, an exclusive Sasuke Highly Articulated Figure and more action-packed surprises. OMAKASE, operated by Viewster, shipped its first merchandise box in November 2015 to universal acclaim with Kill la Kill. Items included a gold foil hardcover manga, a Senketsu scarf, a Mako Mankanshoku towel, a Mittsu Hoshi wristband and a Guts button. All merchandise inside OMAKASE is officially licensed, including OMAKASE's upcoming use of Naruto Shippuden, which is officially licensed by TV TOKYO and Viz.
Get more information and join OMAKASE at http://www.viewster.com/omakase.