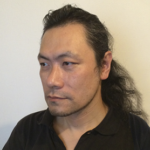 We are excited to welcome Koji Igarashi to Anime Expo 2016! Known for his work on Castlevania: Symphony of the Night, Tokimeki Memorial, and Detana!! TwinBee, Igarashi is the Co-Founder and Producer at ArtPlay, Inc. He is also the Producer and Scenario Writer for Bloodstained: Ritual of the Night, which successfully funded $5.5 million on Kickstarter last year.
Igarashi will participate in a Q&A panel as well as autograph sessions. (Schedule TBD.)
Don't forget to secure your badge to Anime Expo 2016 today!