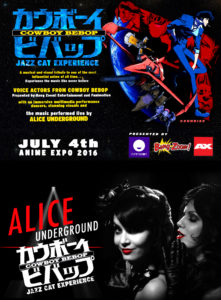 This event information is from Anime Expo 2016. Please stay tuned for 2017 events to be announced!
Join us for an epic performance of music, storytelling and visuals celebrating one of the most influential anime of all time, Cowboy Bebop!
Experience the music and art of Cowboy Bebop live with Alice Underground's stellar ten-piece jazz ensemble rocking the house with dynamic visuals from the show. Going deeper into the story of Cowboy Bebop, Bang Zoom! Entertainment brings some of the iconic English voice cast on stage to reminisce about this highly acclaimed series. This is the rare opportunity to experience a live performance of legendary music of this unforgettable show.
See you, Space Cowboy. . .
Event Details
Guests: Alice Underground, voice cast TBA
When: Monday, July 4 / 11:30 AM – 1 PM. (Seating/Doors Open: 10:30 AM)
Where: Los Angeles Convention Center, Main Events Hall B
Note: This event requires both a valid AX badge (1-Day Monday or 4-Day) and an event ticket for Cowboy Bebop Jazz Cat Experience.