We are excited and honored to announce the world premiere of Makoto Shinkai's your name. at Anime Expo 2016! The film will be shown at AX ahead of the August 2016 Japanese release date.
Makoto Shinkai will also participate in a Q&A panel at AX 2016. 
Don't forget to secure your badge to Anime Expo 2016 today!
Up-and-coming animation director Makoto Shinkai, hailed as the next Mamoru Hosoda, hooks up with Masayoshi Tanaka, character designer for "Anohana: The Flower We Saw That Day", (box office gross over 10 million).  "your name." – a wholly original and moving sci-fi romance unlike anything seen before! By a director, Makoto Shinkai, whose hour has come! The time is ripe for a new challenger to the animation crown!
Story: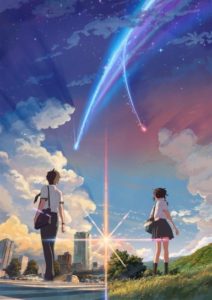 Taki wakes from what seemed like a very important dream. But in an unfamiliar room and not in his body…but that of a girl! On the other hand, Mitsuha, a teen girl, is tired of living in a mountain village. She pleads to God "Please, let me be a handsome Tokyo boy in my next life!" The next morning, Mitsuha awakens as a high school male. Based on information around her, she learns whose body she inhabits. His name is Taki. The two have switched places! When they wake up again, they've returned to their former selves. But sleep brings the body swap again and again. Mysteriously, the pattern continues daily. The two fumble about, unaccustomed to each other's bodies, but start communicating by memo. As they awkwardly overcome one challenge after another, a bond develops between the two- one that evolves into something more romantic. However, there's something they still don't know… The unexpected is about to be revealed.