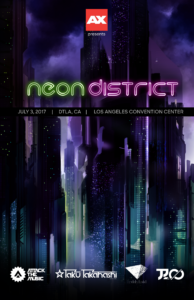 Anime Expo is excited to announce ︎︎☆Taku Takahashi, TeddyLoid, and Pa's Lam System as part of the line-up for Neon District, our first electronic music concert! Plus, more artists TBA!
Come explore the eclectic lineup of Japanese DJs, quench your thirst at the beer garden, and stand out in exclusive limited edition merchandise. Get a taste of Tokyo's underground scene within the distinctive flare of LA's nightlife at the one destination you won't want to miss out this summer. You must be 18 and older to travel within Neon District. All ticket sales are final; no refunds or exchanges.
Neon District is made possible in association with Attack the Music.
EVENT DETAILS
Performers: ☆Taku Takahashi, TeddyLoid, Pa's Lam System, and more TBA
When: Monday, July 3, 2017 / 8 PM – 2 AM
Where: Main Events (Hall B)
Tickets On Sale:

Premier Fan: Friday, April 21 at 6 PM PDT
General Attendee: Sunday, April 23 at 6 PM PDT
Pricing: 

General Admission: $40
VIP: $75
VIP + Meet & Greet: $125
REMEMBER: You will need to present both an Anime Expo 2017 badge (1-Day Monday or 4-Day) PLUS the respective event ticket in order to attend. 
Anime Expo will run from July 1 through July 4, 2017 at the Los Angeles Convention Center. To purchase passes for Anime Expo, please visit http://www.anime-expo.org/registration/