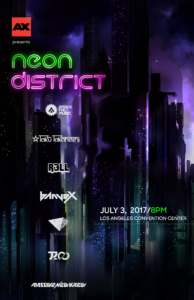 Anime Expo is excited to announce ︎︎R3LL, banvox, and Massive New Krew as part of the line-up for Neon District, our first electronic music concert!
Come explore the eclectic lineup of Japanese DJs, quench your thirst at the beer garden, and stand out in exclusive limited edition merchandise. Get a taste of Tokyo's underground scene within the distinctive flare of LA's nightlife at the one destination you won't want to miss out this summer. You must be 18 and older to travel within Neon District. All ticket sales are final; no refunds or exchanges.
Neon District is made possible in association with Attack the Music.
EVENT DETAILS
Performers: ☆Taku Takahashi, R3LL, banvox, TeddyLoid, Pa's Lam System, and Massive New Krew
When: Monday, July 3, 2017 / 8 PM – 2 AM
Where: Main Events (Hall B)
R3LL
As the rest of the world has finally begun to latch on to Jersey Club and barrel forward at the speed of light, original Brick Bandits crew member R3LL has long been running things in his native Newark, helping to build awareness of his homegrown sound that The Fader lauded "the most deliriously entertaining dancefloor movement of the moment" and Thump, in a review of R3LL's debut Directions EP, called "one of the most exciting happenings in all of dance music."
As one of the pioneers and breakout stars of Jersey Club, R3LL initially gained recognition for his sophisticated, official remixes such as Disclosure's "Latch" , Cashmere Cat's "Rice Rain" and Lido's "Money".  His debut Directions EP followed and was described by Resident Advisor as "a powerful debut (with) the lush feel of someone who's been producing originals for years." The inaugural release on the Brick Bandits label, Directions boldly showcased solid Jersey Club tracks alongside exciting collaborations with artists such as Sinden, where Jersey Club came face-to-face with Bass and House for the very first time.
Releases with Big Dope P on Nest/Owsla, Sinden on Sweat It Out and official remixes of Iggy Azalea, Watch The Duck and Drake followed and ultimately led to R3LL signing with Steve Aoki's infamous Dim Mak Records.  A move to LA saw R3LL release his sophomore Visions EP on Dim Mak in June, featuring standout singles Down, and title track Visions, which was premiered by Billboard, who proclaimed the EP "a fiery follow-up that's addictively catchy and impossible to listen to sitting down."
A SXSW showcase and headline tours across the US, Europe and Japan have further proved the rest of the world has latched on to R3LL's unique take on Jersey Club.  Equally in demand are his DJ mixes, where he expertly blends Jersey Club into Deep House, Bass, Electro and Trap for BBC Radio 1, Mixmag, Nest, Thump, Insomniac, Triple J and Rinse FM.   R3LL's set for Boiler Room's Jersey Special saw record-breaking live viewers and his recent mix for BBC Radio 1Xtra made the front page of The Fader.
With everyone now hammering at the door to work with him, R3LL has some very exciting release plans for the 2017, following his headline world tour across USA, Europe and Asia over the summer.  As Thump said "This dude is going places, good luck keeping up."
Follow R3LL on Soundcloud and Twitter.

Banvox
banvox is a Japanese DJ/Producer from Tokyo. He started his career in 2010 while still in High-School, releasing original tracks and remixes on the internet. His first EP "Instinct Dazzling Starlight" was released under Surfer Rosa Records (UK) founded by the English DJ Tim Healey. The EP reached #2 in Beatport's TOP 100 Releases chart, only kept from the top spot by deadmau5's new release.
Onward the artist released remix's such as Foreign Beggars "Flying To Mars Banvox Remix" from deadmau5's label mau5trap and MNDR "UBCL(Banvox Remix)" from ULTRA RECORDS etc. His tracks have attracted the attention of international superstars and dance music executives including David Guetta, Dirty Loud and the BBC Asian Network. Such recognition saw him featured as an emerging New Artist 2014 on iTunes (Pan Asia), and producing Google Android's TV commercial song in 2015.
Every single and album he has released has reached #1 on the iTunes dance chart in Japan and concurrently he was able to become one of the most Shazamed artists in Japan. banvox currently revealed his first music video "Summer" and newly released "At The Moment EP". In addition to producing, banvox regularly performs at various festivals and EDM events including appearances at Skrillex in Kyoto (Japan), ULTRA JAPAN 2014 main stage, ULTRA KOREA 2015, ULTRA EUROPE 2015, and one of Japan's Biggest festival, FUJI ROCK FESTIVAL 2015.
Many artists love banvox sound and played his song at gigs and on the radio, like Porter Robinson, Madeon, Chain Smokers, Flux Pavilion etc. That shows just how extensive banvox's talent reaches. banvox definitely has the potential to be an international dance music icon.
Massive New Krew
Formed by Javelin and Tachibana in 2008, they started producing full-time as Hardstyle track makers, they are still going strong today. Their high energy performances have graced the floors of Tokyo's top clubs in Japan, including Shibuya WOMB, Club Asia, and Sound Museum VISION. They have firmly planted themselves as the headline unit for Hardstyle in Japan. They have collaborated with various producers worldwide including Psyko Punkz, one of the top producers in the Netherlands whom was rated in the top 100 originators of Hardstlyle in the popular publication DJ MAG.
Massive New Krew also produces their own record label under the name 'Massive Circlez'. Massive New Krew has also been featured artists in Taito's Groove Coaster series, Namco's Taiko no Tatsujin, and Konami's Beatmania IIDX and Sound Voltex, participating also in the popular doujin label HARDCORE TANO*C.
REMEMBER: You will need to present both an Anime Expo 2017 badge (1-Day Monday or 4-Day) PLUS the respective event ticket in order to attend. 
Anime Expo will run from July 1 through July 4, 2017 at the Los Angeles Convention Center. To purchase passes for Anime Expo, please visit http://www.anime-expo.org/registration/