We are excited to welcome our last three Cosplay Senpai for AX 2017: Kiss a Frog Cosplay, Little Sprite Cosplay, and Queersplay! They will join Amber Arden, Corgi Cosplay, Dustbunny, Steff Von Schweetz, and Stella Chuu in the Entertainment Hall, right next to the Cosplay Repair Area.
Our Cosplay Senpai Program, created in 2014, handpicks Cosplayers who have shown community support and outreach through positivity both at con and in the online world. They are invited to come and promote fun, passion, and acceptance within the cosplay community through panels and discussions. The Cosplay Senpai are always open to answering questions, giving advice, and talking with attendees.
Anime Expo advocates the idea that cosplay is for everyone –no matter what size, gender, age, religion, shape, color, or even species. Cosplay is all about having fun! The Cosplay Senpai help support our mission to promote the message that anyone and everyone can cosplay.
About Kiss a Frog Cosplay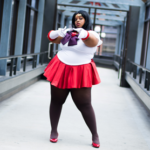 Alicia Renaé is a 26 year old plus-sized, body-positive Cosplayer from Charleston, WV with a cosplay and J-Fashion career spanning 5 years. She has been featured on the interwebs by AFROPUNK, Black Girl Nerds, Anime Complexium, Art of Cosplay, Black Nerd Problems and many others! Her best known cosplays are her Super Sailor Mars from Sailor Moon, and Princess Tiana.
About Little Sprite Cosplay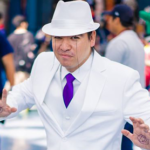 Luis is a SoCal cosplayer and Disneybounder who started cosplaying in 2014 and has yet to stop. Though he loves all different kinds of characters, Disney's Kuzco and genderbend cosplays hold a special place in his heart. Luis is a firm believer that everyone can cosplay and a promoter of cosplay positivity. Just a Hakuna Matata kind of guy.
About Queersplay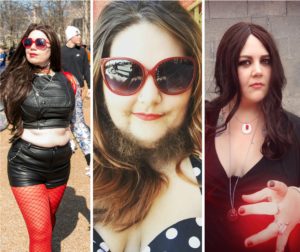 QueersPlay was founded in 2014 to challenge the toxic masculinity, homophobia, misogyny, transphobia, and transmisogyny that often runs rampant in convention culture. QueersPlay aims to create safer spaces for marginalized communities within fandom, incuding attending conventions to set up a visible safer space, paneling at conventions, social media outreach, selling LGBTQ focused fan art, and has a webseries on youtube. Additionally, QueersPlay contributes to most vulnerable in the queer community and donates to grassroots organizations that benefit LGBTQ youth experiencing homelessness.