60 minutes until the end of the world. 6 heroes who can stop it.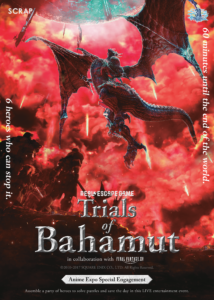 Dive into a once-in-a-lifetime FINAL FANTASY experience
A special engagement of Trials of Bahamut – Real Escape Game by SCRAP is coming to Anime Expo 2017!
Story:
The primal dragon Bahamut once wreaked havoc on the realm of Eorzea and brought the world to the brink of destruction. However, the Archon Louisoix and the Warriors of Light were able to stave off his onslaught and save the world from despair. With their strength, Bahamut vanished, Eorzea was restored, and peace returned once more.
5 years later…
Bahamut, believed to have long since perished, is secretly being revived deep within a subterranean ruin. The time remaining until his awakening: 60 minutes. Can you and your party stop the chaos before it begins?
The battle for Eorzea starts now!
EVENT DETAILS
Game Style: This is a puzzle-based, event type game, not an escape room. Each session includes a live MC, exciting movies and music to enjoy, interactions with costumed characters, and a solution walkthrough at the end. Each team will be 6 players, and there will be multiple teams playing simultaneously during the game. Each team is acting on their own and not competing with the others.
When: July 1 – 3: 1 PM / 3:30 PM / 6:30 PM / 9:00 PM
Where: JW Marriott, Gold Ballroom, Salon 4
Tickets On Sale:

Premier Fan: Friday, June 9 at 6 PM PDT
General Attendee: Sunday, June 11 at 6 PM PDT

Price:  $40
Trials of Bahamut – Real Escape Game is all ages, but ages 13+ is recommended. No large props or cosplay with bulky or extended pieces that could interfere with game play. Loose, comfortable clothing recommended so you can search and move around the space easily. No bag check area available at the JW Marriott. No photography or video recording is permitted during the game. All sales are final.  No refunds, no exchanges. 
What is a Real Escape Game?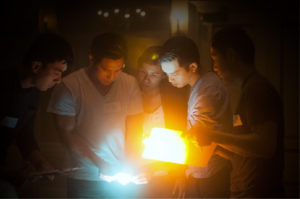 REAL ESCAPE GAME™ is an immersive, live puzzle game in which teams find clues and solve mysteries within a time limit. Some games require you to escape from a locked room, while others challenge you to reach the ending of a story that unfolds around you. Become a detective to identify the culprit of a crime, or face off against a mastermind who has placed a bomb on your wrist and locked you inside a room full of riddles – YOU choose what kind of hero you want to be! Work together with your teammates; communicate, strategize, and emerge victorious!
Real Escape Games do not require any special skills or prior experience. Each game is designed to be playable by anybody who is up to the challenge. Come try one for yourself and see what it feels like to ARRIVE A PLAYER, LEAVE A HERO.
For more information, please see their FAQ page:  https://realescapegame.com/ffxiv/faq/
NOTE:  You MUST have an Anime Expo attendee badge as well as an event ticket for admission.  To purchase a badge, please go to:  http://www.anime-expo.org/registration/
For inquiries, email:  Events@anime-expo.org.
About SCRAP
Established in Japan in 2007, SCRAP Corp. debuted the Real Escape Game concept in Kyoto and followed up with the first permanent Real Escape Room in 2010.  Since then, over 3.3 million people have participated in games run by SCRAP and its partners throughout Japan, China, Singapore, France, Spain, Canada and the United States.  For more information about SCRAP, visit realescapegame.com.