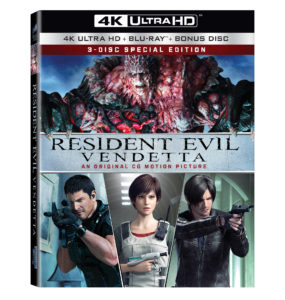 Anime Expo to host screening of Resident Evil: Vendetta, with a Q&A by the English voice cast! Panelists include Kevin Dorman (Chris Redfield), John DeMita (Glenn Arias), Alex von David (ADR Director), and Mami Okada (Casting, Bang Zoom! Entertainment).
EVENT DETAILS
Date: Saturday, July 1
Time: 6:00 PM – 8:30 PM (Q&A at 7:45 PM)
Room: Video 2 (JW Marriott – Diamond Ballroom)
Due to its R-rating, the Resident Evil: Vendetta Screening is restricted to 18+ attendees. An 18+ wristband is required for this event and can only be requested at an Info Services booth in LACC. Please note that this a non-ticketed event. For information about lining up and room entry for this event, please see the Program Room Policies.
Synopsis: BSAA Chris Redfield enlists the help of government agent Leon S. Kennedy and Professor Rebecca Chambers from Alexander Institute of Biotechnology to stop a death merchant with a vengeance from spreading a deadly virus in New York.
Resident Evil: Vendetta will be available on digital June 20th and 3-Disc 4K Ultra HD™/Blu-ray™ Combo Pack, 2-disc Blu-ray™ and DVD July 18.
Anime Expo will run from July 1 through July 4, 2017 at the Los Angeles Convention Center, with Pre-Show Night on June 30, 2017. To purchase passes for Anime Expo, please visit http://www.anime-expo.org/registration
For more information about attending, please visit http://anime-expo.org/registration-help/