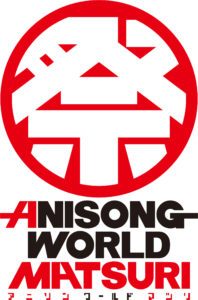 Anisong festival returns to Microsoft Theater for the third year in a row with three-day, multi-artist music event.
Santa Ana, Calif. (April 3, 2018) – Anime Expo (AX) is excited to present Anisong World Matsuri (AWM) at Anime Expo 2018 to be held on July 4, 6, and 7. AWM is created in association with BANDAI NAMCO Arts, Inc., Amuse Inc., Sony Music Entertainment (Japan) Inc., and other leading Japanese entertainment companies.
Details on participating performers and event details for AWM at Anime Expo 2018 will be announced in the coming weeks. Held at the Microsoft Theater at LA Live, all three incredible concert events will be on par with previous years' performances. Specific ticket sales information will be announced at a later date.
To attend any of the Anisong World Matsuri concert events, attendees will need to present both a valid AX badge of any type along with a respective concert ticket. All 1-day and Pre-Show badge holders will also be able to purchase a ticket to attend any one of the AWM concert events on July 4, 6, and 7.
In 2017, AWM featured a total of 11 acts across two days of performances. Artists included Mashiro Ayano, ALI PROJECT, angela, Aqours, THE IDOLM@STER CINDERELLA GIRLS, and Wake Up, Girls!
2016's AWM featured "Japan Super Live," a four-hour long, festival-type live event featuring eight popular ANISONG artists such as JAM Project, T.M. Revolution, and sphere; "Japan Band Battle," featuring FLOW and OLDCODEX, and special events focused on "Love Live! Sunshine!!" and "One Punch Man."
"We are excited to continue our partnership with Anisong World Matsuri for AX 2018, creating opportunities for wonderful and memorable experiences for our attendees," said Ray Chiang, CEO of SPJA. "AWM at Anime Expo 2018 will continue to enhance the live performance concert experience at Anime Expo."
Shunji Inoue, CEO of BANDAI NAMCO Arts Inc. is thrilled with their return to Anime Expo. "It is our third year teaming up with Anime Expo. We are very honored to be given such opportunities where the US fans can actually experience the live events of Japanese anisong artists. Please enjoy these exciting performances with the very best artists from Japan."
Anime Expo will run from July 4 through July 8, 2018 at the Los Angeles Convention Center. To purchase badges for Anime Expo, please visit http://www.anime-expo.org/registration/
For more information about attending, please visit the How to Attend page.
For more information about Anisong World Matsuri, please visit http://www.anime-expo.org/anisong-world-matsuri
About SPJA
SPJA is a non-profit organization dedicated to popularize and educate the American public about Japanese entertainment and pop culture, as well as provide a forum to facilitate communication between professionals and fans. For more information, please visit www.spja.org.
About Anime Expo
Anime Expo (AX) brings together fans and industry from Japan, the US, and all over the world for the largest celebration of Japanese pop culture in North America. Taking place every year since 1992, Anime Expo features the best in Japanese entertainment, music, fashion, and video games. For more information, visit www.anime-expo.org.
About Anisong World Matsuri
Anisong World Matsuri is an event made possible through the collective efforts of Japanese companies that focus on animation-related contents. The event aims to transmit Japan's animation/anisong culture, and to maximize its value throughout the world by delivering Japan's anisong concerts worldwide in the highest quality. Anisong World Matsuri has delivered anisong to fans in Washington D.C., Shanghai, and returns to Anime Expo 2018 for its third consecutive year.