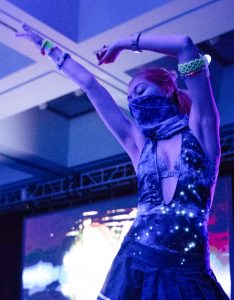 Get ready to own the dance floor! This year, AX Dance is collaborating with ANX Kpop Battles and bringing out two competitions: AX Dance Xhibition and Kpop Battles: Dance & Destroy!
☆
AX DANCE Xhibition Showcase
☆
Wanna show us your moves? Got a crew with a routine? Submit your audition videos and showcase your talent! The Xhibition Showcase will take place on Friday, July 5th, 2019.
Guidelines:
Open to all ages!
All music genres welcome!
Signing up does not guarantee a spot in the Showcase
AX badge required
Signups:
Signups will be restricted to the first set of categories.
Singles
Doubles
Squads up to 6
Squads up to 10
The entire group must be present in the video submission.
Signups are open from April 29th to June 9th but may close early if categories fill up according to allocations below. So get your application in as soon as possible!
Auditions:
Auditions will only be accepted through online submissions
Routines will be limited to 3-5 minutes max. Please edit your songs accordingly
Please link to your video of the routine you would like to perform
Same song for audition must be used for the showcase
Audition videos will be judged by our panel to select performers for the showcase
Groups must have Captain that will be a Point of Contact (PoC)
Selected groups will be emailed after a final decision has been made. Response will be required in order to participate in the showcase.
The PoC will be responsible for responding via email or text in case any questions or notifications arise.
Failure to respond in a timely manner will cause your group to forfeit your spot and another group will be selected
Auditions:
Submissions will be accepted on-site through flash drives ONLY; No Exceptions
Songs must be in .mp3 format and at LEAST 192 kbps
Lyrics must be free of profanity. Songs must be clean or be censored
Songs will be previewed on site during check-in to ensure quality and rules
Showcase:
Out of the groups who send in their audition videos, the following will be selected:
(3) Singles
(3) Doubles
(3) Squads up to 6
(1) Squad up to 10
Showcase routines will be limited 4-5 minutes max.
Showcase performances will take place on stage
Deadline: June 9, 2019
For more information, questions or concerns, please feel free to email: mayraochoa@anime-expo.org
ANX Kpop Battles: Dance & Destroy!
Solo dancers, it's time to take the ultimate challenge and face off head-to-head! One-up your competition on the dance floor and freestyle your way to first place! The Kpop Battles will take place on Saturday, July 6th, 2019.
Guidelines:
AX badge required
Signing up does not guarantee a spot
This competition is similar to the "Kpop Random Dance Challenge."  Songs are selected at random. See below list of songs that will be randomly played in rotation.
Some knowledge of Kpop dance-covers preferred but not required. Freestyling is allowed but helps if you're aware of the possible choices randomly selected.
Competition:
Solo only event! (no team signups)
2 solo dancers will be randomly selected to go head-to-head
Two individuals will be randomly selected to dance battle head-to-head.
Both dancers will reach into a bag and pick a random song, and both dancers must agree on one of their draws. If they can't decide, we have that covered too!
Dancers will have 120 seconds to show off their moves!
Judges will determine the winners of each pairing match-up. Single-elimination (if there is time, double-elims) until there's only one champion left standing!
Song List: 
Songs that will be featured in random selection.
Standard List
(G)I-dile – Latata

4MINUTE – Crazy

B.A.P – Feel So Good

BIG BANG – Bang Bang Bang

BLACK PINK – BOOMBAYAH

BLACK PINK – PLAYING WITH FIRE

BLACK PINK – Whistle

BTS – 21st Century Girl

BTS – Fire

BTS – MIC DROP

CLC – Hobgoblin

EXO – Monster

GD x TAEYANG – Good Boy

Got7 – HARD CARRY

Got7 – Just Right

Jennie – Solo

K.A.R.D – Hola Hola

Momoland – Bboom Bboom

 NCT 127 – Cherry Bomb

NCT 127 – Limitless

Red Velvet – Russian Roulette

SEVENTEEN – NICE

Sunmi – Gashina

TWICE – CHEER UP

TWICE – TT
Wild List
Grace – I'm Fine

HISTORY – Queen

MONSTA X – Trespass

NCT 127 – Fire Truck

PENTAGON – Gorilla
Legendary
2NE1 – I Am The Best

BTS – We Are Bulletproof

Crayon Pop -Bar Bar Bar

Orange Caramel – My Copycat

Red Velvet – Dumb Dumb

Super Junior – Sorry Sorry

TAEYANG – Ringa Linga

Wonder Girls – So Hot
Ultra-Legendary
Deadline: June 9, 2019
Follow ANX Kpop Battles on Facebook to stay up-to-date with information!