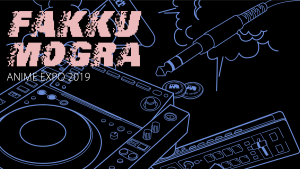 FAKKU and MOGRA are teaming up again for another electrifying international collaboration at Anime Expo 2019! Together, they're creating a blend of the best anisong DJ's in Japan with chiptune and game music from the west. MOGRA is the world's most popular anime music club, straight from the Otaku homeland of Akihabara.
This is a free event open to all 21+ Anime Expo attendees with a valid badge (4-day or Friday). We expect to reach max capacity once doors open, so there is a small number of Guaranteed Entry Tickets available.
Event Info
Date: Friday, July 5
Time: 8:00 PM – 2:00 AM
Room: Lounge 21
Guaranteed Entry Tickets Include:
Guaranteed Entry
Skip General Attendee Line
In and out access until 11 pm
---
Anime Expo 2019  will run from July 4 through July 7 at the Los Angeles Convention Center, with Pre-Show Night on July 3, 2019.
For more information about attending AX, check out our How to Attend guide.
Download our mobile app to stay up-to-date on announcements!