From gaming to cosplay to interactive exhibits, the Entertainment Hall in West Hall has quickly become a must-see destination at Anime Expo! This year is no exception, and we've continued to curate only the most exciting content for our attendees.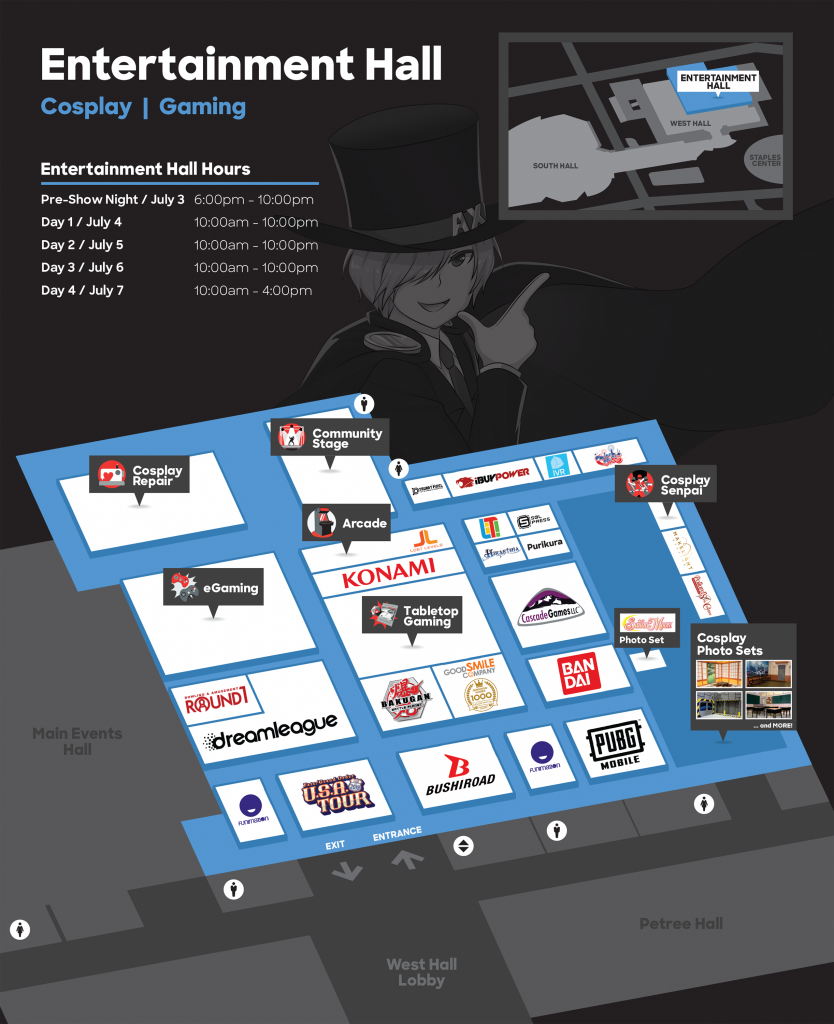 Gaming
eGaming
With over 70 current and past generation console games available from Sony, Microsoft, and Nintendo, the eGaming area has a ton to offer to all of our video gamers. From casual fans to hardcore gamers, everyone is invited to try out some of the new or unusual games, play an old favorite, or show off a little on your favorite machine.
New this year for AX 2019, BYOD! Bring Your Own Device! Want to show off how many characters you'd unlocked in Smash? Or want help unlocking those hard to beat levels? Pack up that switch, box up your Xbox, and stick your PS4 into your suitcase because all are welcome!
Tabletop Gaming
Want to try your hand at tabletop gaming or compete in a tournament? Visit our Tabletop Gaming area! This is the place for everyone to come play some of the latest board, card, dice and paper-and-pencil RPG games, as well as the classics you know and love. Check out some games from our extensive library at no extra cost (valid badge and photo ID required) or join one of the many demo sessions that go all weekend long.
Cosplay
Photo Sets
This is the place to show off those cosplays you've worked so hard to build! Drop by our Cosplay Photo Sets and capture the perfect picture in an immersive backdrop. Only available at Anime Expo, choose from over 10 different sets with a broad range of themes!
This year we'll be having an exclusive Sailor Moon themed photo set! Lights! Action! Sparkles! Become a Sailor Moon Photo Star against the official, magical moon-themed backdrop. Get your pose on with your favorite guardians and receive a sparkly animated GIF over email!
If that's not enough, all participants will be entered in a sweepstakes to win wonderful prizes from companies such as Kodansha, Bluefin and more! Selected winners will also receive their very own copy of Sailor Moon Sailor Stars Part 1 – Blu-ray and DVD combo pack available in stores on June 18th!
Cosplay Repair Station
Have a cosplay emergency, or need to put some reinforcements on your cosplay! Our Cosplay Repair Station is here for you! With plenty of seating and supplies, we provide just about everything to help attendees touch up or mend their cosplay. We also offer changing rooms at the Cosplay Repair Station!
Cosplay Senpai
Make sure to say hi to our AX 2019 Cosplay Senpai! The Cosplay Senpai Program handpicks Cosplayers who have shown community support and outreach through positivity both at con and in the online world. The Cosplay Senpai are always open to answering questions, giving advice, and talking with attendees.
World Cosplay Summit USA
Anime Expo is honored to host the finals for the World Cosplay Summit USA Finals! Stop by the World Cosplay Summit Retrospective and see what it takes to be a World Cosplay Summit contender! The booth will be staffed by WCS Alumni, and there will be cosplays from previous years' competitors on display. Make sure to watch Masquerade & World Cosplay Summit on July 6 at 8 PM!
Community Stage
Catch a performance from local bands, singers, and performers! Our Community Stage offers a place for talented entertainers to share their talents, so make sure to come by and support! We'll be releasing the Community Stage schedule soon, so stay tuned!
Interested in performing on the Community Stage? Follow us on social media for updates on when applications will open to perform at AX 2020!
Exhibitors
Be sure to stop by our Entertainment Hall Exhibitors! They'll be bringing some unique, interactive gaming and experiential showcases that you won't want to miss!
BANDAI, a Japanese toy company
Bushiroad
Cascade Games
Cue Studio
Dreamleague Gaming
Fate/Grand Order U.S.A. Tour
Funimation
Good Smile Company
Hiraethia
iBuyPower
IVR
Life is Tech!
MakeLight Studios
Pollard's Sew Creative
PUBG Mobile
Round1 Bowling & Amusement
Sol Press
Truant Pixel
& more!
HyperX Esports Truck
New this year, HyperX is bringing the HyperX Esports Truck to AX 2019! Located on the North Plaza (off Chick Heart Ct.), the HyperX Esports Truck is an 18-wheel, 35-ton semi-trailer that unfolds with a push of a button. Once open, this state-of-the-art mobile arena features a competition stage, live streaming production booth, VIP lounge and more. Make sure you stop by!
Entertainment Hall Hours of Operation:
Pre-Show Night (July 3):

 6:00 PM – 10:00 PM

Day 1 (July 4):

 10:00 AM – 10:00 PM

Day 2 (July 5):

 10:00 AM – 10:00 PM

Day 3 (July 6):

 10:00 AM – 10:00 PM

Day 4 (July 7):

 10:00 AM – 4:00 PM
---
Anime Expo 2019  will run from July 4 through July 7 at the Los Angeles Convention Center, with Pre-Show Night on July 3, 2019.
For more information about attending AX, check out our How to Attend guide.
Download our mobile app to stay up-to-date on announcements!