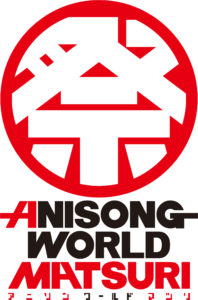 Anime Expo is excited to present Anisong World Matsuri Los Angeles 2017 on June 30 and July 1, 2017. Created in association with Lantis Co., Ltd. and other leading Japanese entertainment companies that brought Anisong World Matsuri to AX 2016.
2016's Anisong World Matsuri featured a four-hour long, festival-type live event "Japan Super Live" featuring 8 popular ANISONG artists such as JAM Project, T.M. Revolution, and sphere; "Japan Band Battle" featuring FLOW and OLDCODEX, as well as special events focused on "Love Live! Sunshine" and "ONE PUNCH MAN."
Participating performers and additional event details for Anisong World Matsuri Los Angeles 2017 to be announced early 2017.
Anisong World Matsuri Los Angeles 2017 will be enhancing the live performance concert experience at Anime Expo.
Tickets for Anisong World Matsuri Los Angeles 2017 to go on sale in early 2017.
For the concert on June 30th, AX attendees will be able to present any type of badge along with a ticket. This include Pre-Show Night, 4-day, any 1-day, and more! For the July 1st concert, attendees will need either a Saturday badge or 4-day badge plus a concert ticket to attend.
"After receiving an overwhelmingly positive response from attendees who went to Anisong World Matsuri in 2016, we're excited to collaborate with our industry partners again to bring it back for 2017's 26th Anime Expo event," said Mark Manansala, CEO of SPJA.
PHOTOS FROM ANISONG WORLD MATSURI AT ANIME EXPO 2016
Anime Expo will run from July 1 through July 4, 2017 at the Los Angeles Convention Center. To purchase passes for Anime Expo, please visit http://www.anime-expo.org/registration/
For more information about Anisong World Matsuri, please visit http://www.anime-expo.org/anisong-world-matsuri-2017
For more information about attending, please visit http://www.anime-expo.org/registration-help/
About SPJA
SPJA is a non-profit organization dedicated to popularize and educate the American public about Japanese entertainment and pop culture, as well as provide a forum to facilitate communication between professionals and fans. For more information, please visit www.spja.org.
About Anime Expo
Anime Expo (AX) brings together fans and industry from Japan, the US, and all over the world for the largest celebration of Japanese pop culture in North America. Taking place every year since 1992, Anime Expo features the best in Japanese entertainment, music, fashion, and video games. For more information, visit www.anime-expo.org.
About Anisong World Matsuri
Through the direction of 6 Japanese companies, Anisong World Matsuri LA 2017 is an Animation/ANISONG event that will take place on June 30th and July 1st jointly with ANIME EXPO 2017. By actualizing an event through the collective efforts of Japanese companies that focus on Animation-related contents, the event aims to transmit Japan's Animation/ANISONG culture, and to maximize its value throughout the world.