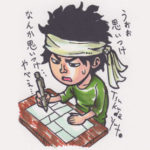 We are excited to welcome Yuto Tsukuda to Anime Expo 2017 for his first North American convention appearance! Tsukuda will participate in a panel and autograph sessions (schedule TBA).
Yuto Tsukuda is the writer of the Weekly Shonen Jump manga series Food Wars!: Shokugeki no Soma. This action-packed, saucy food comedy, which is Tsukuda Sensei's first work to be released in English, has also been adapted into a hit anime.
Food Wars!: Shokugeki no Soma is published in North America by VIZ Media, and the latest chapters are serialized simultaneous to Japan publication in VIZ Media's Weekly Shonen Jump digital magazine.
Text Translation: "C'mon, think! Gotta come up with something… Oh, man…"
FOOD WARS!: SHOKUGEKI NO SOMA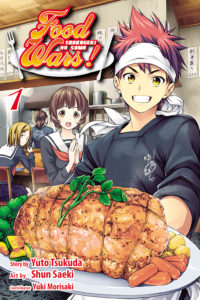 Story by Yuto Tsukuda, Art by Shun Saeki, Contributor Yuki Morisaki
SHOKUGEKI NO SOMA © 2012 by Yuto Tsukuda, Shun Saeki /SHUEISHA Inc.
Soma Yukihira's old man runs a small family restaurant in the less savory end of town. Aiming to one day surpass his father's culinary prowess, Soma hones his skills day in and day out until one day, out of the blue, his father decides to enroll Soma in a classy culinary school! Can Soma really cut it in a place that prides itself on a 10 percent graduation rate? And can he convince the beautiful, domineering heiress of the school that he belongs there at all?!
Anime Expo will run from July 1 through July 4, 2017 at the Los Angeles Convention Center, with Pre-Show Night on June 30, 2017. To purchase passes for Anime Expo, please visit http://www.anime-expo.org/registration/
For more information about attending, please visit http://www.anime-expo.org/registration-help/