World Premiere at Anime Expo 2017: ClariS Meets NIPPON BUDOKAN
~ Two Masks and The Lost Sun ~
Attendees who join this Exclusive Video Concert will receive a ClariS light stick!!
Event Details:
When: July 2nd , 2017 5:00 PM – 6:30PM
Where: Video Room 1/ JW Marriott Diamond Ballroom
**Pre-order your own copy of ClariS Meets NIPPON BUDOKAN ~ Two Masks and The Lost Sun~ now! Available only at Crunchyroll.com/store
About ClariS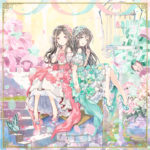 In 2010, the producer of Oreimo, handpicked ClariS to provide the opening theme song after reading about them in an issue of anime music magazine, LisAni! ClariS made their major debut with single "irony", the opening theme of the anime, which debuted at #7 on the Oricon chart. ClariS's music has also been featured in Puella Magi Madoka Magica, Nisemonogatari, Moyashimon Returns, Nisekoi, Tsukimonogatari.
Official Website: clarisMusic.jp
Facebook: facebook.com/ClariSofficial
Vevo: vevo.com/artist/clariS