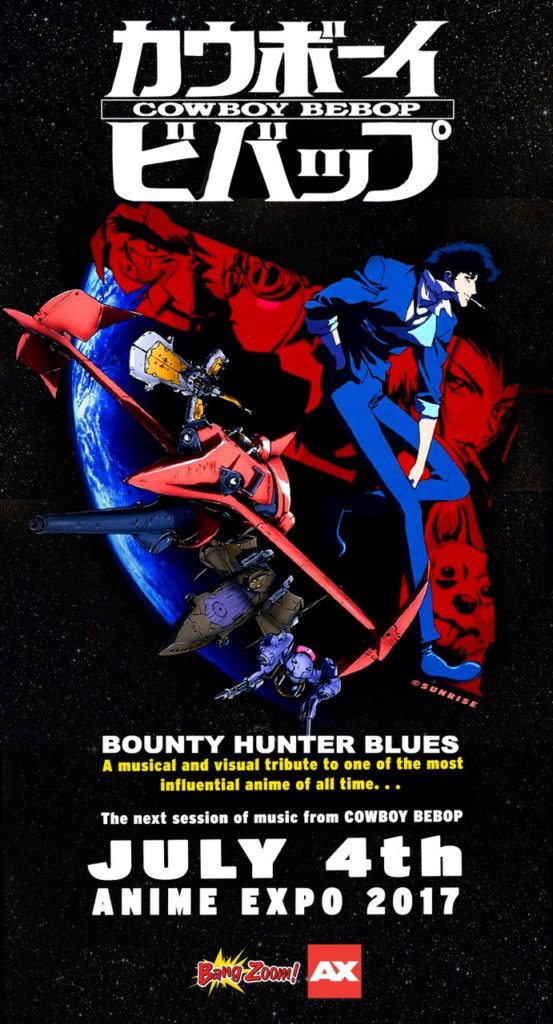 Cowboy Bebop: Bounty Hunter Blues will bring down the house this year as we pay tribute to one of the coolest animes ever created. Universally acknowledged for its unique soundtrack and epic stories told with the moody sounds of a John Coltrane album, Cowboy Bebop breaks the mold of what an anime could be and the cultural impact on fans worldwide.
Bounty Hunter Blues will be a follow up to the popular Jazz Cat Experience with a special live concert for the fans. Featuring live jazz music by the revolutionary band Alice Underground as they tear through a decade of musical and visual tributes to this epic franchise.  Bounty Hunter Blues brings together a host of dancers, performers, musicians and musical scores mixed with stunning visuals from the series and created for the live show. Going beyond the Jazz Cat Experience, this one-of-a-kind concert will include new songs as well as classic favorites from the legendary series, Cowboy Bebop.
EVENT DETAILS
When: Tuesday, July 4, 2017 at 3:30 pm – 5:00 pm
Where: Main Events Hall (LACC/West Hall B)
Tickets On Sale:

Premier Fans: Friday, June 16 at 6 PM PDT
General Attendee: Sunday, June 18 at 6 PM PDT

Price:

$25 – Gold
$20 – Silver
$15 – Bronze
cowboy bebop: bounty hunter blues TICKETS
REMEMBER: For this event, attendees will need either a Monday badge or 4-day badge

plus

a concert ticket to attend.
Anime Expo will run from July 1 through July 4, 2017 at the Los Angeles Convention Center, with Pre-Show Night on June 30, 2017. To purchase passes for Anime Expo, please visit http://www.anime-expo.org/registration/
For more information about attending, please visit http://www.anime-expo.org/registration-help/