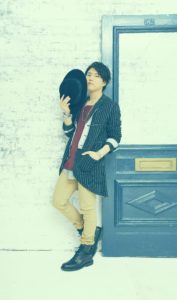 We are excited to welcome Miyu Irino to Anime Expo 2017 for his first overseas convention appearance! He will participate in a panel and autograph sessions (schedule TBA).
Miyu made his big break voicing Haku in Studio Ghibli's Spirited Away in 2001. The following year he was chosen to voice the main character of the video game Kingdom Hearts as Sora. He has since gone on to voice many major roles in various anime, such as Mobile Suit Gundam 00 as Saji Crossroad, AnoHana as Jinta Yadomi, Code Geass: Akito the Exiled as Akito Hyuga, The Garden of Words as Takao Akizuki, and A Silent Voice as Shoya Ishida.
In recent years he has been active in theater as well. He debuted as a singer in 2009, and has released six albums.
Anime Expo will run from July 1 through July 4, 2017 at the Los Angeles Convention Center, with Pre-Show Night on June 30, 2017. To purchase passes for Anime Expo, please visit http://www.anime-expo.org/registration/
For more information about attending, please visit http://www.anime-expo.org/registration-help/