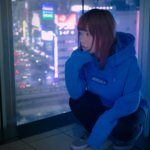 YUC'e is a solo artist which excels in composition, arrangement, production, and mixing. She is based mainly out of Tokyo. In high school, YUC'e studied abroad and majored in music. She started producing professionally in 2015. In 2016 her hit song 'Future Cαndy' was played at COUNTDOWN JAPAN to a tremendous reaction and welcoming. Currently she is working as a vocalist when producing her tracks and is looking to reach extensively through the world!
YUC'e's appearance at Anime Expo 2017 is made possible by Otaquest.
Additionally, all ticketholders for Neon District will receive an LED flash ring provided by V2 & Ele Tokyo! 
EVENT DETAILS
Performers: ☆Taku Takahashi, R3LL, banvox, Ram Rider, TeddyLoid, Pa's Lam System, Massive New Krew, and YUCe
When: Monday, July 3, 2017 / 8 PM – 2 AM
Where: Main Events (Hall B)
Please see the Neon District Policies and Regulations for more details.
Anime Expo will run from July 1 through July 4, 2017 at the Los Angeles Convention Center, with Pre-Show Night on June 30, 2017. To purchase passes for Anime Expo, please visit http://www.anime-expo.org/registration/
For more information about attending, please visit http://www.anime-expo.org/registration-help/