J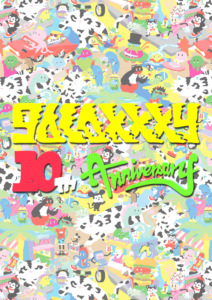 oin us in celebrating galaxxxy's 10th anniversary! Come hang out with the designers from galaxxxy in the VIP Lounge at The NOVO and enjoy music and drinks* in honor of their long-running mission to make the world colorful and cute!
EVENT DETAILS
Guests: galaxxxy designers, moji8fresh and Mitsu
When: Sunday, July 2, 2017 / 8:30 – 10:30 PM
Where: The NOVO VIP Lounge
Price: $10
Tickets on sale June 23, 2017 at 8PM
This event is restricted to 18+ only. 4 ticket limit per order. Doors open 1 hour before the event. Once doors close, no late entry, no refund or exchanges for missed show. Premier Fan Discount Code cannot be applied for this event. *Drinks not included; cash bar available. 
Anime Expo will run from July 1 through July 4, 2017 at the Los Angeles Convention Center, with Pre-Show Night on June 30, 2017. To purchase passes for Anime Expo, please visit http://www.anime-expo.org/registration/
For more information about attending, please visit http://www.anime-expo.org/registration-help/