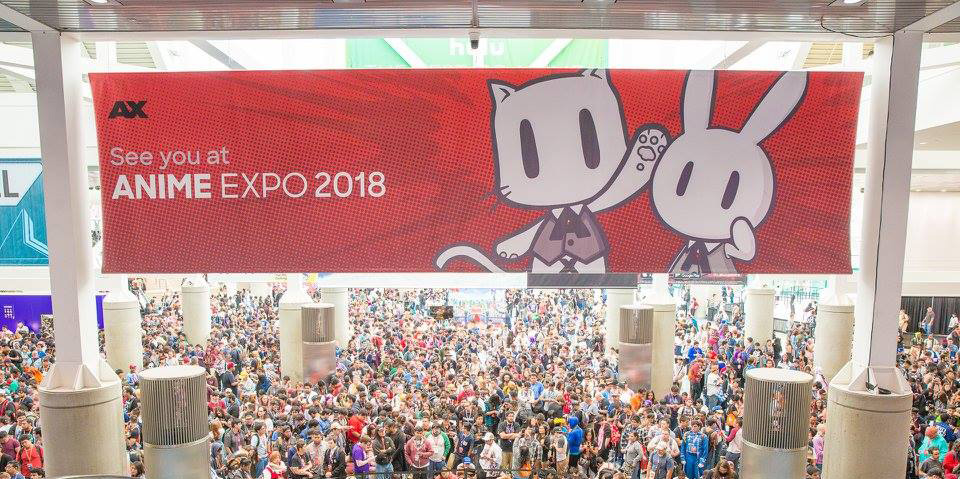 Society for the Promotion of Japanese Animation (SPJA) Celebrated the 26th Anime Expo with More Concerts and Premiere Events than Ever Before!
Santa Ana, CA – (July 5, 2017) Anime Expo, produced by The Society for the Promotion of Japanese Animation (SPJA), presented its 26th event this past weekend at the Los Angeles Convention Center.
This year Anime Expo added its first Pre-Show Night which had 8,068 unique attendance.  The regular unique event attendance was 107,658, marking a 7% increase from last year.  Overall unique attendance for Anime Expo reached 115,726 including Pre-Show Night, marking a 15% increase of attendance from 2016. Overall turnstile attendance was marked at 357,178 with Pre-Show Night, representing a 17% growth increase from last year.
The Exhibit Hall featured a total of 450 booths, which covered 137,600 sq ft, a 14% increase from 2016. More than 150 guests, performers, voice actors, and creators were on-site to mingle with attendees and provide special performances, sneak peaks and premieres.
With the expansion into JW Marriott, as well as the addition of Pre-Show Night, AX 2017 featured 800+ hours of programming, a 12% increase from 2016.  Additionally, Anime Expo live streamed its 30+ hours of Petree Hall content for the first time reaching 340,000+ views from 67 countries.
HIGHLIGHTS INCLUDED:
The return of Anisong World Matsuri, featuring ten acts over the course of two days.
Neon District, AX's inaugural EDM concert, which featured ☆Taku Takahashi, R3LL, banvox, Ram Rider, TeddyLoid, Pa's Lam System, Massive New Krew, YUC'e, and Slushii.
World Premieres: Cardcaptor Sakura Clear Card Prologue, Infini-T Force, Welcome to the Ballroom, Violet Evergarden, The Ancient Magus Bride, and the Tokyo Ghoul live-action movie.
US Premieres: The irregular at magic high school The Movie: The Girl Who Summons the Stars and Lupin the Third – Italian Game.
Dub Premieres: Anohana, Digimon Adventure tri.: Confession, and Food Wars!
Other top names from the Japanese entertainment industry at Anime Expo included Actor/Entertainer Yamada Ryosuke and Director Fumihiko Sori, presenting a panel for the upcoming live-action Fullmetal Alchemist film, Akira Himekawa (creators of Legend of Zelda manga), Yuto Tsukuda (Co-Creator of Food Wars! Shokugeki no Soma), plus voice actors Miyu Irino, Daisuke Hirakawa, Yui Horie, Yui Ishikawa, and Tomokazu Seki.
Parties filled the weekend and attendees had the opportunity to interact with special guests and performers at Final Fantasy's 30th Anniversary Celebration, Hatsune Miku's 10th Anniversary Dance Party, galaxxxy's 10th Anniversary, and more.
Video game creators Hironobu Sakaguchi and Kimihiro Fujisaka from Mistwalker, Sohei Niikawa from Nippon Ichi Software, Toshihiro Kondo from Nihon Falcom, and Tsunako and Mizuno from Idea Factory were on hand to discuss their latest work.
Over 1,700 volunteers came together to make the event run smoothly for all attendees. Collectively, they put in 80,000 hours throughout the week for set-up, operations, and teardown.
Next year's Anime Expo is scheduled for July 4 – 8, 2018, with Pre-Show Night on July 4th. 4-day badges for AX 2018 are now on-sale for $71, with the rest of the Premier Fan badges to be released (more info TBA).

About SPJA
SPJA is a non-profit organization dedicated to popularize and educate the American public about Japanese entertainment and pop culture, as well as provide a forum to facilitate communication between professionals and fans. For more information, please visit www.spja.org.
About Anime Expo
Anime Expo (AX) brings together fans and industry from Japan, the US, and all over the world for the largest celebration of Japanese pop culture in North America. Taking place every year since 1992, Anime Expo features the best in Japanese entertainment, music, fashion, and video games. For more information, visit www.anime-expo.org.
Media Contact: press@anime-expo.org