conXion is a club-style event produced by Attack The Music (in collaboration with AXDance) intended to give attendees an opportunity to discover and build a *connection* with new and upcoming acts in the global dance music landscape.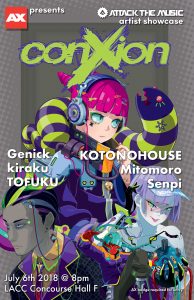 conXion Event Info:
Date: Friday, July 6
Time: 8:00 PM – 2:00 AM
Room: AX Dance (Concourse Hall E – 151)
conXion is open to attendees with a valid AX 2018 badge. Be sure to visit an Info Services booth in advance to pick up an 18+ wristband. For more information, please see the Program Room Policies.
Featured acts:
Genick
kiraku
KOTONOHOUSE
TOFUKU
mitomoro
Senpi
Plus, James Landino joins the AXDance DJ lineup!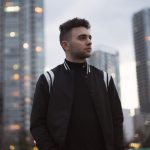 With over a decade of experience, James Landino is a leading force in video game music. He is a game composer and touring DJ bridging the gap of video games and electronic music together.
His major credits include: Dropmix, Cytus 2, Amplitude HD, RWBY and Crypt of the Necrodancer. James has performed at numerous events such as MAGFest, Pax East, Anime Expo, Super Smash Con, and more.
AXDance DJ timetables TBA soon
---
Anime Expo 2018  will run from July 5 through July 8 at the Los Angeles Convention Center, with Pre-Show Night on July 4, 2018.
For more information about attending AX, check out our How to Attend guide.