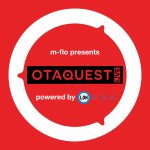 Bronze tickets will go on sale TOMORROW, June 30 at 12 PM PT!
m-flo presents "OTAQUEST LIVE" powered by LDH USA is a music festival featuring Japan's biggest stars. This jam-packed event will unite dance music & J-Pop lovers in celebration. Energized by legendary Japanese group m-flo and PKCZ®, LDH USA aims to increase the popularity of Japanese pop music & culture.
To attend m-flopresents "OTAQUEST LIVE" powered by LDH USA, attendees can present a valid AX 2018 badge of any type, including all 1-day and Pre-Show badges*, along with a concert ticket. All attendees must be above the age of 6, and must purchase a ticket.
Event Details
Artist Line-up: m-flo, PKCZ®, YASUTAKA NAKATA, Crystal Kay, Hachioji P, TeddyLoid, Masayoshi Iimori, and YUC'e
When: Thursday, July 5
Doors Open 2:00 pm for Platinum/Gold, 2:30 pm for Silver, Show Starts 4:00 pm
Where: Microsoft Theater
Please be aware that there is no re-entry for Microsoft Theater.
---
Anime Expo 2018  will run from July 5 through July 8 at the Los Angeles Convention Center, with Pre-Show Night on July 4, 2018.
For more information about attending AX, check out our How to Attend guide.
*Please note that Pre-Show Night badges are available to purchase through July 4.