Join the Miss Monochrome summer solo concert at AX 2017! Miss Monochrome will be performing a collection of songs from her hit list including cover songs from anime.
The original character designer and voice actress for Miss Monochrome, Yui Horie, will also be in attendance. She will participate in a panel (schedule TBA).
Event Details
Date: Sunday, July 2
Time: 6:00PM – 7:00PM
Room: LACC/Live Programming 3 (408 AB)
 The Miss Monochrome concert is a non-ticketed event and is open to attendees with a valid AX 2017 badge. For more information, please see the Program Room Policies.
About Miss Monochrome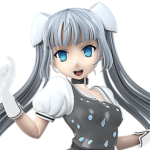 Miss Monochrome is a Bishojo idol produced by voice actress Yui Horie. She made her debut in March 2012, at Yui Horie's concert "Yui Horie's Adventure ~Secret Mission Tour~." In October 2013, Miss Monochrome: The Animation aired for the first time on TV Tokyo, and it was followed by Miss Monochrome: The Animation 2 and Miss Monochrome: The Animation 3 in 2015. She has released a total of 10 single CDs and an album CD. This fall, her 2nd album CD will be released, and she continues to produce popular musical performances. Her signature phrase is "I want to be a star!"
©ミス・モノクローム製作委員会
About Yui Horie
Yui Horie is a popular Japanese voice actress and music artist. She has released 19 single CDs and 9 album CDs to great acclaim on Japanese billboard rankings, with Best Album ranked in at 3rd place and World End's Garden ranked in at 5th. Her live concert performances began with Nippon Budokan in 2009, followed up by her "Secret Mission Tour" in 2012, and several other Tokyo performances in 2013 and 2015. As a voice actress, she has starred in roles which include Minori Kushieda from Toradora, Tsubasa Hanekawa from the Monogatari series, Anna Kushina from K, and Millhiore from Dog Days.