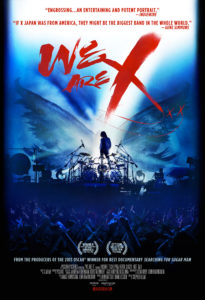 From the production team behind the Oscar-winning Searching for Sugar Man comes We Are X, a transcendent rock & roll story about X Japan. Come to this special Anime Expo screening of We Are X followed by a live Q&A with X Japan's Yoshiki!
Yoshiki and X Japan have contributed music to several historic anime titles, including X, X – X2 Double X, Buddha: The Great Departure, and Saint Seiya: Legend of Sanctuary.
We Are X Official Website: http://www.wearexfilm.com
As a special gift to fans, Yoshiki will also present the first-ever public screening of the We Are X featurette, "THE BIRTH OF YOSHIKITTY", which includes:
Video interview with

Hello Kitty

designer Yuko Yamaguchi
Inside look at the creation and design process explained by Yuko Yamaguchi herself
Behind-the-scenes with Yoshiki working on the "Hello Kitty Theme Song"
Yoshiki speaking about his relationship with the founder of Sanrio
We Are X will also be sponsoring the Masquerade & World Cosplay Summit US Finals.
The Anime Expo Masquerade has been a longstanding tradition, running for over 20 years, and is a cosplay and performance competition, with one of the largest cash prizes in the country. People from all around the world compete in our grand showcase of cosplay and performance!
EVENT DETAILS
Date: Sunday, July 2
Time: 12:00PM – 2:00PM
Room: Video 1/JW Marriott Diamond Ballroom
 The We Are X screening is a non-ticketed event and is open to attendees with a valid AX 2017 badge. For more information, please see the Program Room Policies.
About Yoshiki
Yoshiki is a songwriter, drummer, and a classically-trained pianist. His rock group X Japan has sold 30-million singles and albums combined, and filled the 55,000-seat Toyko Dome a record 18 times. Now the band's popularity is spreading throughout the world, having recently completed a sold-out World Tour, performing in North America, Europe, Latin America, and South East Asia. To learn more, visit http://www.yoshiki.net/
Anime Expo will run from July 1 through July 4, 2017 at the Los Angeles Convention Center, with Pre-Show Night on June 30, 2017. To purchase passes for Anime Expo, please visit http://www.anime-expo.org/registration/
For more information about attending, please visit http://www.anime-expo.org/registration-help/