With 900+ hours of programming, there's bound to be things to do at AX you've never heard of or been to, even among our long-time attendees!
Whether you love J-pop, EDM, rock music, or aren't familiar with any Japanese artists (yet!), there's bound to be something for you!
Here's a summary of everything at AX that music-lovers can enjoy:
1. Anisong World Matsuri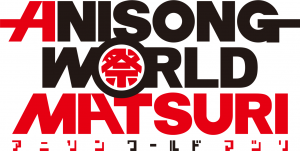 Created in association with BANDAI NAMCO Arts, Inc., Amuse Inc., Sony Music Entertainment (Japan) Inc., and other leading Japanese entertainment companies, Anisong World Matsuri at AX 2018 will present a powerful collection of fan-favorite performers including Aimer, AKB48 Team 8, THE IDOLM@STER CINDERELLA GIRLS, i☆Ris, Yuki Kajiura, May'n, Shoko Nakagawa, and Sanketsu-girl Sayuri. In addition, school idol group Aqours (Love Live! Sunshine!!) will perform their first-ever full-length solo concert in the United States.
2. m-flo presents "OTAQUEST LIVE" powered by LDH USA
m-flo presents "OTAQUEST LIVE" powered by LDH USA is a music festival featuring Japan's biggest stars. This jam-packed event will unite dance music & J-Pop lovers in celebration. Energized by legendary Japanese group m-flo and PKCZ®, LDH USA aims to increase the popularity of Japanese pop music & culture.
Learn More
3. Mirai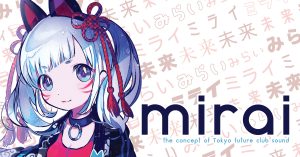 Explore the next generation sound of Japan's club scene, inspired by rising trends in net culture and independent creative movements. Featuring a lineup of artists who have been shaking things up with their own unique sound, Mirai delivers an authentic experience driven by Tokyo's music subculture. From Japan to the Internet and now to Anime Expo, this one of a kind event is a crash course in the future club sound concepts of Tokyo.
4. Karaoke (and Acoustikaraoke!)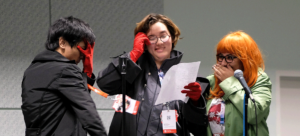 With contests, showcases, open mic sessions, and an extensive library of over 7000 anime and game soundtracks, J-pop, and more, there's something for everyone in the Karaoke room!
Musical instruments are always welcome on all 3 of our karaoke stages, but during Acoustikaraoke hours instrumental performances get priority! There is even an Acoustikaraoke Contest! You could win a free badge to next year's Anime Expo or just come and jam on stage for fun!
5. AXDance
DJ's come together from all over the world to play every major popular genre from J-pop to House music. Plus, take part in dance workshops and competitions. This year's lineup includes Moe Shop, Grimecraft, and many more. Plus, be sure to check out conXion presented by Attack the Music on Friday, July 6!
6. Lounge 21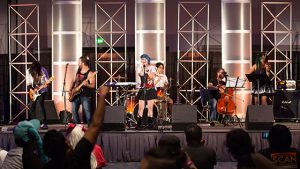 Complete with drinks and nightly performances, Lounge 21 is a great place to relax and cool off. (Must be over the age of 21 to enter)
7. AMV Theater & AMV Competition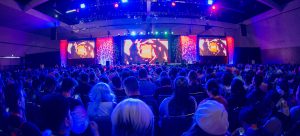 Anime Expo's AMV Theater features the largest collection of AMV programming out of every convention in the nation. Whether you're interested in the creation process, eager to show off your own work or just can't get enough of AMVs, be sure to stop by and see what we have in store.
The Anime Music Video (AMV) Competition is a visual rhapsody of music and anime featuring a wild assortment of music videos created by fans just like you. Out of hundreds of submissions received every year, we meticulously curate an electrifying selection of Drama, Action, Sentimental, Fun, Rhythm, and Comedy videos in a professionally presented three-hour event where you pick the winner!
---
Anime Expo 2018  will run from July 5 through July 8 at the Los Angeles Convention Center, with Pre-Show Night on July 4, 2018.
For more information about attending AX, check out our How to Attend guide.