As we get ready for another great year, we've made some very important changes to the convention center entry process for AX 2019. We're committed to making sure traffic flows smoothly and ensuring you have the best AX experience possible, so please take note of the following: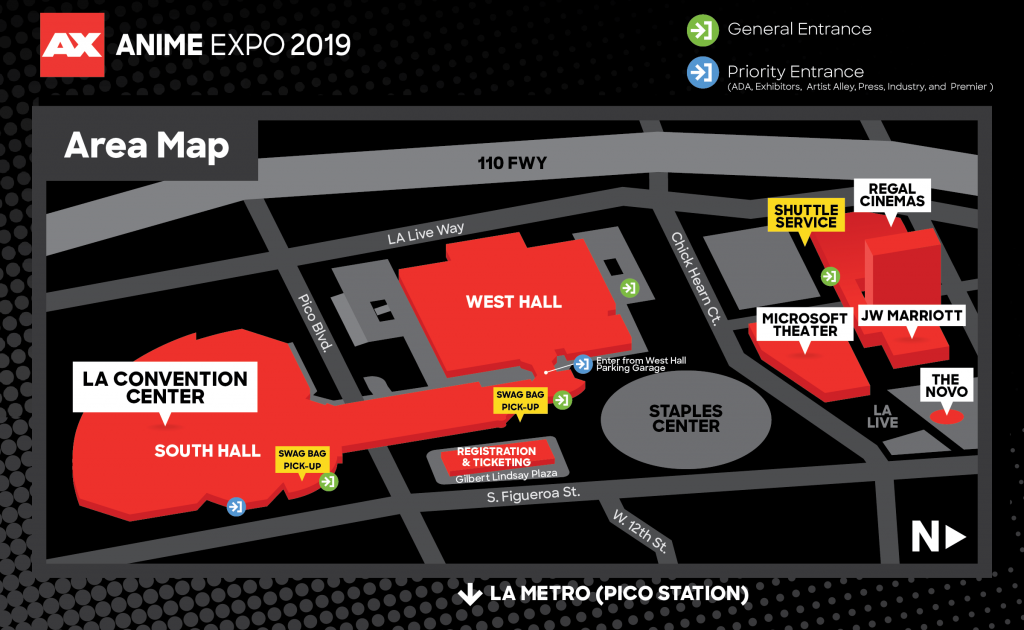 RFID Entry
We're bringing back RFID badge entry for this year! Each badge has a unique RFID chip, which allows us to validate entry into Anime Expo and prevent counterfeiting.
Upon entry, you will go through security check (i.e. bag inspection/magnetometers), then tap your badge in at one of the many entry portals to access the Los Angeles Convention Center/JW Marriott. A green light will flash to indicate that your badge is validated. You must tap your badge at the portals every time you enter or exit Anime Expo.  Remember to do this to prevent re-entry issues.
Here's a step-by-step guide to entering Anime Expo with RFID: 
There will be multiple entrances into the Anime Expo event areas.
Make sure you have your badge on hand before you enter the security line. This will help reduce slowdowns in the building entry process.
If you are carrying a prop, you must go through the Weapons Check line every time you enter the convention center. Weapons Check booths are located at each General Entrance and will both tag and re-inspect tags on weapons going into the event.
Proceed through Security, choosing no bag line, general bag line, or weapons check line as appropriate. 
If you have a bag, simply place it on the table for inspection. Do not leave any bags unattended.

Please note:

Clear bags, small clutch purses, and having fewer bags overall are highly recommended to decrease time spent at Security

.

Once you're through security, proceed to an entry portal and "tap in" your badge. Wait for the green flashing light and beep before moving forward.
Now that you have entered the event area, you can enjoy Anime Expo without having to go through multiple security checkpoints!
Remember to tap out when you exit! This will allow you to easily return through security without having to go to a Badge Help Desk.
Still have questions about RFID and building entry? Check out our info page here.
Entrance and Swag Bag Pick-Up Locations
We've made Swag Bags easier to pick up this year! There will now be two Swag Bag Pick-up areas available at the convention. The South Hall Pick-up will now be located inside South Hall Lobby beside the South Hall AX Merch Store. A second Pick-up will be located to the left of the West Hall General Entrance after tapping into the RFID portals.
Swag Bags are available upon entry, so you will need a valid badge in order to receive it.
The West Hall Priority Entrance has moved and will now be accessible from the West Hall Parking Garage.
Weapons Check Lines
If you are carrying a prop, you must go through the Weapons Check Line every time you enter the convention center. Check booths will be located at each General Entrance and will both tag and re-inspect tags on weapons going into the event. Please note that there are no Priority Entrances for Weapons Check.
Food & Beverage
Attendees are permitted to bring in food and beverage for personal consumption only. This means only food and drink that you would be able to consume individually. Food and drink brought in bulk will not be permitted into the convention center.
Refillable water bottles will be allowed — in fact, we encourage them! We want to make sure you stay hydrated during the day, so we'll be providing water refill stations throughout the convention center. All consumables are subject to inspection by LACC/AX security.
If you find you are in need of assistance with the convention area entry process, please find an Access Control volunteer in a red vest.
Resources to Help You Plan Your Time at AX:
Check the Schedule! (Be sure to download the app for updates!)
Hours & Maps (Get detailed info on the hours for various activities and areas within AX)
Exhibitor List (Don't forget Entertainment Hall and The Annex too)
Don't forget, we're here to help! Visit an Information Services booth if you have any questions. We also have a number of services available for your convenience such as Bag Check and the Quiet Lounge.
---
Anime Expo 2019  will run from July 4 through July 7 at the Los Angeles Convention Center, with Pre-Show Night on July 3, 2019.
For more information about attending AX, check out our How to Attend guide.
Download our mobile app to stay up-to-date on announcements!