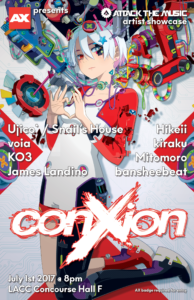 conXion is a club-style event produced by Attack The Music (in collaboration with AXDance) intended to give attendees an opportunity to discover and build a *connection* with new and upcoming acts in the global dance music landscape. Featuring a lineup of artists from Japan and all over the US, the inaugural event is already slated to be one you won't want to miss!
Featured acts:
Ujico* / Snail's House
voia
KO3
James Landino
Hikeii
kiraku
Mitomoro
bansheebeat
EVENT DETAILS
Date: Saturday, July 1
Time: 8 – 1 AM (All Ages from 8 – 10 PM; 18+ from 10 – 2 AM)
Room: AX Dance (Concourse Hall F – 152)
conXion is a non-ticketed event and is open to attendees with a valid AX 2017 badge. For more information, please see the Program Room Policies.
Anime Expo will run from July 1 through July 4, 2017 at the Los Angeles Convention Center, with Pre-Show Night on June 30, 2017. To purchase passes for Anime Expo, please visit http://www.anime-expo.org/registration/
For more information about attending, please visit http://www.anime-expo.org/registration-help/